Meet Amy Moon
Travel Concierge & Marketing Strategist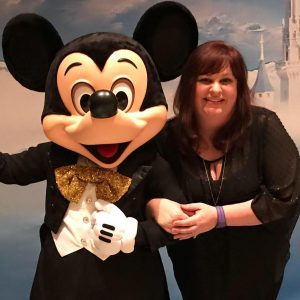 As a graduate of the Disney College of Knowledge, along with her love of organization and details, Amy takes advantage of her 12 plus years in event planning and fundraising in the Non-Profit sector to create a stress-free environment for all her clients. She is able to use her magic Pixie Dust to make sure her client's Disney Dream vacation will exceed their imaginations. As a mother of 2 children Amy and her family take frequent trips to Disney World. She specializes in character experiences and itinerary planning. Contact Amy to start planning your magical vacation today.
Favorite Snack: Mickey Pretzel
Favorite Character Meal: Ohana at Disney's Polynesian Resort with Lilo, Stitch, Mickey and Pluto Favorite
Favorite Quick Service: Be Our Guest at Magic Kingdom for lunch
Super Power: Magical character interactions that make memories to last a lifetime!
Fun Fact: Amy is a trained vocalist and dreamed of being the voice of a Disney Princess. When playing live with her acoustic trio she still will add some Disney magic with her rendition of Let It Go or a song from Princess and the Frog!
---
View Amy's Facebook Page

amy@pdphtravel.com
(407) 917-5778
---
What clients are saying about Amy!
"Amy is amazing! She truly helped this clueless Disney first timer (first time with the kids anyway). Planning a trip to Disney World can be intimidating and she made it so easy for us! She did everything from booking the resort, to helping us with dining reservations, FastPasses, etc. You name it – she either did it for us or knew exactly how to tell us to handle it. She is on call while you're there and I had to call a couple of times with questions – so much easier than having to deal with customer service there. We will go again in a couple of years and you better believe we'll be calling Amy again. Thank you for such a magical trip!" -Emily U. Athens, GA
"Had a fabulous Disney vacation ! Disney is truly indescribable and will leave you speechless. The magic and excitement in my kids eyes moved me to tears. I couldn't have planned this vacation without Amy ! Amy was alway readily available and assisted in planning my kids first trip to Disney. She made great recommendations for my family. You bet that I'll be calling Amy back for our next Disney trip !! Thanks Amy." -Amber G. Moorehead, KY
"All I can say is…. wow! I will NEVER take a vacation without Pixie Dust and Pirate Hooks by my side. Amy Moon planned every single detail for us. A busy working mom, I could never find the time to put a vacation like this together. No detail was missed. We had the most magical time and I owe it all to Amy Moon. If you are planning your very 1st or your 100th family vacation, I would say stop what you are doing and call Pixie .. they spread fairy dust on everything and make it all good!" -Elaine L. Teterboro, NJ
"We went on our first Disney World trip and it was perfect. Amy set up our entire trip and daily activities. We would have been lost without her help. Thank you so much Amy!!!" -Mistie G. Parland, TX
"We have been home from our first Disney trip ever for about a week now, and had an absolute BLAST!! Amy planned everything and took all the stress out of planning a vacation! We were talking on the car ride home about already booking our next visit, and of course using Amy again! Thank you so much for all your hard work with getting us a wonderful room, great dining reservations, and the best fast passes!" –Kate I. Covington, GA
"I just want to say Thank You Amy Moon from Pixie Dust and Pirate Hooks for the best vacation to Disney ever! I have plan two trips by myself to Disney and this trip that was planned with your help was the most care free trip ever!! Thank you for everything you did. No detail was left out!! You helped make our Disney vacation one of the best yet!" -Beckie S. Marksville, LA
"Been home from Disney for a little over a week. We had an absolute blast!!! Our trip could not have been what it was without Amy's help! She was fantastic and even answered all my crazy questions while I was walking through the Magic Kingdom! We can't wait to go back! Contact Amy if you are even thinking about doing anything involving Disney!" –Danielle C. Watkinsville, GA
"A special thank you to Amy Moon at Pixie Dust & Pirate Hooks for making our Disney trip amazing and helping our family craft a moving target itinerary geared around our two small children. Thank you so much!" -Michele S. Southport, CT