MEET Candace Raybon
Vacation & Cruise Specialist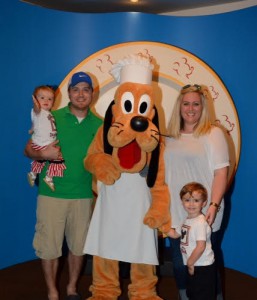 Candace has been a lover of all things Disney since her first trip to the World at age 5. She has experienced Disney World as a child, teen, college student, newlywed, and as a parent of young children. With each trip, she has found a new perspective and love of Disney World. Candace believes making magic is FUN and she enjoys planning every detail so that you can enjoy a personalized "Hakuna matata" (it means no worries) vacation! Contact Candace to start planning your magical vacation!
---
Favorite Snack: As a self proclaimed Disney foodie, I can't pick just one. My favorites are school bread in Epcot, a frozen lemonade in Frontierland, lefou's Brew in fantasyland, and of course the classic Mickey bar.
Favorite Quick Service: Sunshine Seasons
Favorite Character meal: The Garden Grill. It has a small capacity so you get a ton of time with the characters!
Super Power: Making the most of Fastpass plus.
Fun Fact: Candace honeymooned in Disney World and it was awesome!
View Candace's Facebook Page

candace@pdphtravel.com
601-916-6441
what people are saying about candace!
"Thank you so much for all you did to plan our trip!!! You did a wonderful job!! Everything was perfect! We loved our resort! I liked it better than anywhere we have ever stayed! You did a great job with our fastpasses! They were spaced perfectly! We enjoyed all our meals too! We loved having a printed itinerary! Thank you again for all your hard work!!" –Barbara S., Carriere, MS
"If you are planning to go to Disney World, I highly recommend Candace. She has gone ABOVE and BEYOND for us!! Thank you so much!" –Tasha R., Mobile, AL
"Candace did a fantastic job planning our honeymoon trip to Jamaica. She was very instrumental in helping my husband select the Sandals resort that would best fit our personalities and interests…She was even sure to check in on us right before our trip began to make sure we were good to go. We wouldn't book another big trip without her! She made this a flawless experience and we had the honeymoon of a lifetime. Candace is amazing at what she does and makes you feel special and well cared for." –Anna E., Memphis, TN