MEET Katie Chrisohon
Travel Concierge & Marketing Strategist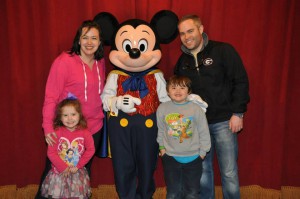 Katie grew up going to Walt Disney World and is a true fan of the most magical place on Earth! She worked for Radio Disney for many years in Promotions and Sales and is proud to be a former Disney Cast Member. She has vacationed at Walt Disney World more times than Goofy can count. She loves and has personally experienced the wide array of vacation options – as a child on her first trip to hug Mickey's neck to an adult with and without kids, she can attest that the opportunities for a magical vacation are endless! She is a mom of three awesome kids, wife to an incredible husband, and your go-to friend and resource for planning your next magical vacation!
---
Favorite Snack: Mickey Pretzel – yummy!
Favorite Character Meal: Tusker House Restaurant in Animal Kingdom with Donald and the gang all decked out in their safari gear.
Favorite Quick Service: La Cantina de San Angel (Mexican in Epcot). Be sure to grab some churros and a seat out by the water. It is the perfect spot to watch IllumiNations: Reflections of Earth.
---
770-605-3032
what people are saying about katie!
"Katie! Thank you so, so much for helping us plan the best trip to Disney ever! I don't know what I would've done without you! Thank you for booking dining reservations, Fast Passes, hotel rooms, a stroller, a scooter, arranging bus transportation, etc! Also a huge thank you for all of the time we sat on the phone discussing everything and all of the helpful guidance and tips you gave me! When we got to Disney, it was so wonderful to be relaxed and really able to enjoy every moment because you made sure we had everything planned beforehand! You are the best! XOXO" –Amanda G. – Alpharetta, GA
"My family and I just returned from the four night Disney dream cruise to the Bahamas. We had an absolutely amazing time and cannot thank Katie enough for all her hard work. As first time cruisers, we had no idea about certain meet and greats and other activities that required tickets. Katie took care of all of that and more. From our excursions, to the kids club and boarding documents, Katie was on top of everything. All my family had to do was get on the boat. I have never used a Disney agent before (I always planned our vacations), but I will never again do the planning on my own. Disney alone does a fantastic job with their customer service, but Katie's help was the cherry on the top. She was also so accessible and answered my many questions quickly. Katie, thank you for your help! We will definitely be repeat cruisers, and will be contacting you again for assistance." –Tiffani E. – Decatur, GA
"My family just got back from our first family Disney Trip. I was at a LOSS for how to even start when it came to booking. A sweet friend of mine gave me Katie's number and she was a GOD SEND. All I did was provide her with information about us like our names, ages, interests etc. She did ALL the work, found us a resort, provided me with a list of options and I chose. It was THAT EASY!! Y'all, I didn't have to do anything!!! She booked all of our reservations for dining and boutique and even our fast passes. Taking three kids to Disney was terrifying to me but Katie made it a BREEZE!!!!! She was also available to answer any questions once I was in the park!!! If you want to take a seamless trip to Disney, give her a call!!" –Heather D. – Murfreesboro, TN
"Just returned from out first family vacation to Disney World. Katie was amazing to work with. She was very knowledgeable of all things Disney and planned a great trip for us. I know if we planned it ourselves, we would have missed out on so many things. Thanks to Katie, we were able to experience so much more and our children had a great time. They didn't want to leave to come home…but who does after spending a week at "the happiest place on Earth"? Thanks so much Katie for your help in planning an unforgettable trip." –David W. – Fort Wayne, IN
"Thank you SO MUCH for all you did to make our vacation so magical. Though I've planned other trips myself, this was the way to go. And I can't wait until you get to plan our next WDW trip! Thank you, too, for the patience and assistance while we were nursing sick little girls back to health and trying to figure out if we needed to reschedule. Knowing you could help us through that if we needed it made the entire situation much less stressful!" –Mary Beth H. – Valdosta, GA
"I have been to disney multiple times this was the first time I used someone to help plan it. Normally, I plan it all out myself. I can honestly say I will never plan my disney trip again. This was the best and most relaxing trip I have ever taken. Katie was so helpful and made this trip so relaxing. She even got us a reservation to a fantastic dinner that was completely booked when I tried to get it on my own. I will most def use Katie the next time we go to disney!" –Heather A. – Jefferson, GA
"WOW, you sure do know how to plan an amazing trip! Seriously, there is no way I would have been able to plan what you did no matter how much research I did. I cannot thank you enough and I promise I will tell everyone I know about your amazing service. We had an absolute blast! Next time we go to Disney, you will be the first to know." –Cara B. – Atlanta, GA
"You are AWESOME!!! You've made everything so easy, I fully expect you to show up at our home to pack for us! Thank you so very much!" –Karen H. – Hull, GA
"Thank you again for ALL your help! You made our trip truly amazing. Thank you for serving us so well!" –Sean S. – Athens,GA