Meet Shereta Jenkins
Vacation & Cruise Specialist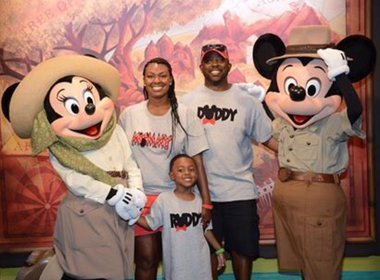 If ever there was a Disney Diva, it is Shereta Jenkins. This Disney College of Knowledge graduate lives the Disney lifestyle and breathes Disney into her everyday activities. Shereta's love for Disney is infectious and she is constantly looking for reasons to head back to the Happiest Place on Earth. She was fortunate to marry a man that shares her love for all things Disney. Shereta and her husband ensure that their little Prince is exposed to all that Disney has to offer (on both land and sea). Every trip to Disney becomes a fantastic voyage filled with discovery and delights. All of her trips have been magical but her greatest joy comes with helping first time Disney-goers. When she is not planning the Ultimate Disney cruise or theme park excursion, she can almost always be found watching one of her family home videos from previous Disney Vacations or enjoying the hundreds of Disney movies with her favorite guys! Whether it is riding the Seven Dwarfs Mine Train Ride or traversing the AquaDuck on the Disney Dream, she is all for the thrills that can only come from the magic of Disney. You and your family will be treated to the ultimate experience when she sprinkles her *pixie dust* on your family's dream vacation.
Favorite Snack: Funnel Cake from Sleepy Hallow
Favorite Quick Service: Pinocchio Village Haus
Favorite Character Meal: Ohana with Stitch, Lilo, Mickey, Pluto and Goofy
Super Power: Planning for large groups (reunions, couple retreats, church retreats)
Fun Fact: She fell in love with Disney after witnessing the magic with her son!
---
View Shereta's Facebook Page

shereta@pdphtravel.com
407-900-4416
what people are saying about shereta!
"Thanks so much for everything you did to make our trip magical. You truly went above and beyond in every way." –C. Humphrey- Lumberton, NC
"I have always considered myself a Disney expert but boy was I wrong!! Thank you so much for everything!! Our trip was absolutely amazing because of your planning! You're the best!" –P. Biggins-Lumberton, NC
"Thank you Shereta McIver Jenkins for all your help planning an amazing Disney vacation for me and my family! You were absolutely the best and went above and beyond to help us! We would have been lost had you not helped us! Thank you so much from all of us!" –P. Lee- Lumberton, NC
"Thank you Shereta McIver Jenkins for the recommendation of the 1900 Park Fare Dining with Cinderella, Prince Charming, the Stepmother and step-sisters!!!! This experience was magical for our daughter's 8th birthday!!!! The food ranked as the BEST dinner we had on vacation to Orlando!!!! The dessert bar was absolutely amazing!!!!! The children's buffet bar was very tasty….The macaroni and cheese was heaven!!! This was an experience that every little Prince and Princess should have while at Disney!!!! Thank you again Shereta!!!" –L. Love-Lumberton, NC
"Shereta McIver Jenkins is awesome. She helped plan every detail. We had a blast and our trip couldn't have went any smoother. Thanks so much Shereta for all of your help!!!" –J. Talton- Lumberton, NC
"You have made our Disney dreams come true!!! We thank you!!!! It's been EPIC " –W. Sampson-Lumberton, NC
"If you want prompt, professional services that are tailored to fit the need of your family, I highly recommend Shereta! She made my trip magical and I will always recommend her to everyone who wants to go on a vacation." –R. Jenkins-Charleston, SC
"We booked our trip to Disney with Shereta. It was a wonderful experience. She took care of everything for us. She knew I had special dietary needs and that was taken into consideration for our dinner reservations and counter meal recommendations. Our room was beautiful! We enjoyed the fast passes. Shereta made sure that everything was confirmed prior to our departure. She was always available to answer all of our questions quickly. She followed up with us after the trip to make sure everything went well. She even texted us information to help with directions during the trip. She went over and beyond! We will definitely book with Shereta again! If you are looking for a knowledgeable and caring travel agent Shereta should be your first choice! She provides first class service!" –D. McLean-Charlotte, NC
"We were in the most capable hands of Shereta, booking our family holiday trip to Disney. She is really knowledgeable of Disney giving you advise that's right on point. From our resort, Disney parks, rides and dining we received impeccable service. We were lucky enough to have an agent that cares enough to ensure you're well taken care of. Although we knew we were staying at a resort that was undergoing renovations, Shereta worked to get us in a beautiful newly refurbished room. She really went above and beyond to make sure my family had what we needed to experience the magic of Disney during the holiday season. Her world class service made for an amazing time at Disney even during the busy Christmas week. I'm deeply impressed with her services and look forward to booking our next trip. Thanks Shereta for another superb trip! If you have high expectations, need attention to detail and just plain professional caring service with excellent follow through I recommend you contact Shereta today."  –M.McIver-Raleigh, NC