MEET Sara russo
Vacation & Cruise Specialist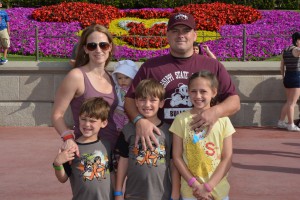 Sara grew up on a farm in Mississippi. Her first trip to Disney World was when she was 5 years old. She did not get an opportunity to go to Disney World again until she had finished college. She has since gone to Disney numerous times and enjoys watching the magic of Disney through the eyes of her four children. Sara looks for any excuse to plan her next trip to Disney, and she loves to help others plan their trips so they can have the most magical experience as possible. Since she has four children, Sara can offer excellent tips on how to have magical moments at each Disney Park for various age children, as well as for the parents.
---
Favorite Snack: Dole Whip Float
Favorite Table Dining:California Grill
Favorite Character Meal:  Breakfast at the Crystal Palace with  Winnie the Pooh and Friends, and I love to get the 8 am reservation so we can see Cinderella's Castle with no people in front of it.
Super Power: Organization.  I love to have everything organized to the smallest detail.
Fun Fact: My husband and I are bigger kids at Disney World than my own four children!
---
View Sara's Facebook Page

sara@pdphtravel.com
(407) 487-3459
what people are saying about sara!
"My family utilized the services of Sara Russo, travel agent with Pixie Dust and Pirate Hooks, for a recent trip to Disney during the 2017 holiday season. Sara is an avid Disney enthusiast herself, therefore planning my family's vacation was something she was passionate about doing! Sara was nothing short of amazing to work with. She tailored our family trip to meet the needs of all those who participated, ranging from 3 years old to 65 years old. I, myself, have been to Disney World close to a dozen times, and I found that she provided us with information and recommended experiences that I would have never known about without using her services. I highly recommend Sara to plan your next vacation! Whether it be a Disney property or any other destination, she will use her knowledge and enthusiasm to ensure that you have a wonderful vacation!" -Melinda Thompson, Batesville, MS